The prudent see danger and take refuge, but the simple keep going and pay the penalty.
- Proverbs 27:12
SEM believes the money you've been entrusted should work as hard as possible. Rather than burying it in a passive strategy, there is clearly a "time to reap and a time to sow." By adjusting the asset allocation based on the current "season" of the market, we actively make the money work harder.
This approach leads to two questions:
What is the overall trend in the market & economy?
In general, stock prices rise and fall with the direction of the economy. SEM scientifically monitors the trend in the overall economy and stock market. The goal is to be fully invested when the trend is rising and to reduce allocation when the trend is falling. In order to avoid short-term market noise the trend indicator is designed to wait until the trend is clearly defined. The chart below illustrates the real-time history of the Cornerstone Trend Indicator.

After determining how much to invest, the Cornerstone models begin to filter through the numerous active Biblically Responsible Investment (BRI) funds. This filter allows the Cornerstone Models to take advantage of current trends in the markets, allocating the assets to the "hot hand" and reducing or eliminating allocations to market segments that are out of favor. While not always perfect, trends typically stay in place for long periods of time, so this focus on the stronger funds gives the Cornerstone Models a potential edge over more traditional buy and hold allocations.
The Cornerstone Portfolios are designed to meet a wide range of investment objectives & risk preferences. Starting with a "balanced" allocation, which moves above and below 50% stock market exposure, each Cornerstone Portfolio increases market exposure and with it, the overall risk. The table below illustrates the equity exposure which will vary based on the current trend in the market. Investors are encouraged to look at their own portfolio and work with their financial advisor when determining the appropriate Cornerstone portfolio.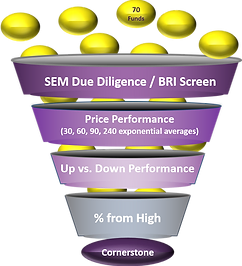 BRI Partners
Our goal is to work with fund managers who stand strong in areas where the Bible is clear. Our primary partners are Eventide, Inspire, Guidestone, Timothy Funds, and Hundredfold Advisors.

"Eventide's investment philosophy is rooted in the biblical understanding that God's great intent for business is that it serve and, in turn, bless humankind... and that companies that prosper best, and sustainably, are the ones who do this especially well.
Accordingly, Eventide seeks to invest in companies that operate with integrity and excel at creating value... Just as importantly, Eventide tries to avoid investing in companies that engage in predatory behavior or seek profit at all costs..."
Values: Passionate, Bold, Collaborative, Constantly Improving, Humble, High Integrity

"We believe that good returns and good values are not mutually exclusive. Not only do we invest in some of the most impactful companies in the world, but we also seek to be one of the most impactful companies in the world...
Every dollar invested with Inspire is helping to inspire transformation throughout the world.
Everyone pays fees. But how is that money used?
Inspire Investing takes 50% of the net profits from our management fees and donates them to Christian charities. So, as you work towards your financial goals, your investment with Inspire impacts the world..."

"GuideStone Funds does not invest in any company that is publicly recognized, as determined by GuideStone, as being in the alcohol, tobacco, gambling, pornography or abortion industries or any company whose products, services or activities are publicly recognized as being incompatible with the moral and ethical posture of GuideStone.
We are disciplined in our adherence to these guidelines and take very seriously our responsibility to help investors meet their financial goals without compromising their personal principles."
"Innovative and competitive investment options can be created that align with Christian values.
Active portfolio management via a manager-of-managers investment approach adds value over a full market cycle.
Broad diversification and an emphasis on intentional risk produces attractive risk-adjusted returns."

"Timothy Plan exists to promote biblically responsible investing. Our foundational principle of investing is that God owns everything. This is why our funds take a pro-life, pro-family approach to investing -- not only to benefit the investor but the broader culture. We are firmly committed to running a mutual fund company with the integrity, excellence, and wisdom that brings honor and glory to our Lord Jesus...
Timothy Plan allows you to invest in companies whose products and practices bring real blessing to the broader culture. We believe this is a better kind of investing."

"Hundredfold provides active investment management specifically to the Hundredfold Select Funds. Through our passion for philanthropy, subadvisory fees earned by Hundredfold are passed on to a 501(c)(3) Supporting Organization, Simply Distribute, which supports medical, religious, scientific and educational activities throughout the world..."
Simply Distribute "cares about the improvement of humanity and is concerned for human interest..."